What could achieve if all projects were consistently and effectively managed?
Auros helps you get there.

Auros has a solution for your Project Management needs
Teams are often faced with a multitude of issues when it comes to effectively managing projects.  Most organizations have a variety of disconnected tools and processes, such as Project Management tracking software, presentation slides, disconnected reports, and multi-tab spreadsheets. Which, unfortunately, results in unnecessary meetings, overflowing emails, and constant fire-fighting.
Unlike traditional knowledge management strategies, Auros software captures valuable knowledge from standards, best practices, lessons learned, checklists, and experienced employees, breaks it down into digestible bite-sized pieces, and delivers it to employees when and where they need it. Instead of searching, important knowledge is effortlessly and continuously being captured, validated, and reused; which positively influences technical decision making and saves the organization valuable resources and time. 
Does your organization face any of these Project Management challenges? Auros can help with that.
Inconsistent Project Management
Auros provides consistent project management techniques and methods across projects and teams.
Labor Intensive Reporting and Tracking
Auros automates reporting and tracking of project measurables.
Poor Visibility of Project Risks
Auros provides highly visible consistent data-driven risk measurements.
Too Many Meetings
Auros improves communication among all team members, eliminating the need for multiple meetings.
Poor Visibility of Executive KPIs
Auros provides a clear high-level view of projects' key performance indicators for the executive management team.
Auros Integrates Directly Within Your Existing Workflow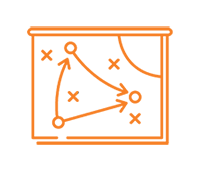 So that your organization can leverage the benefits that the Auros software provides, we have the ability to connect with any web-based API system, including PLM workflows. This complementary approach allows your organization to utilize the features of Auros directly in your existing workflow. While many customers have used our API toolkit to build their own connectors, Auros software provides out-of-the-box capabilities to connect to a variety of PLM tools; including Teamcenter and the most popular 3D solid modeling systems (NX®, CATIA®, Creo®, and SolidWorks®).
With dozens of available capabilities, Auros also eliminates the need for some of the most commonly used project management systems, including: ad hoc list, checklists, disconnected documents, MS Project Plans, standard work documents, and SharePoint®.
How Auros Can Be Used
Teams can use Auros to address many of their Project Management needs, including:
Timelines and deliverables

 

Standard and ad hoc work connected directly to tasks and team activities

 

Integral and connected reporting
Procedures and work methods 

 

Real-time visibility to risk during project execution

 

KPI management
Agile Processes and Product Development
The Auros Assessment Wall can function as a virtual kanban system providing visibility into the work being completed helping minimize work in process activities.
Issues Management
Auros has the flexibility to define multiple issue types and workflows. With Auros, teams can easily communicate, manage, and track concerns, tasks, and resolution statuses. Auros also provides flexible reporting capabilities to easily identify risks and concerns across projects.
Methods and Techniques
Auros goes beyond the static representation of a process and allows workflows and procedures to be dynamically executed. Relevant knowledge from across the enterprise is collected and provisioned appropriately to the user at each step of the process.
Project Management & Team Collaboration
Team Boards contain one or more virtual walls, each having a dedicated job in assisting the team. Walls visually manage things like project timing, issues, process, and reports.
Interested in Learning How Auros Can Help Your Organization?
Our customers have adopted the Auros software to help with several of their major industry challenges, including: warranty issues, maintaining consistent quality, workforce efficiency, retiring workforce, loss of intellectual capital, and training new hires. To learn how your organization can benefit from Auros, like they did, schedule a complimentary demo of the Auros system.
From a demo, you will be able to gain a full understanding of the Auros software and its benefits, learn about the approach our software embodies, and learn how it can be implemented across multiple disciplines.