The 2019 Knowledge Aware Conference was held on September 25 and 26 at The Inn at St. John's, in Plymouth, Michigan. If you missed the conference, or are interested in attending the next one, a recap of the events is hereinafter.
To kick off the two-day event, Auros CEO Jeff Moffa gave the opening presentation, "The Big Picture of Knowledge Aware." Jeff discussed the fundamentals behind Knowledge Aware, as well as giving a demonstration of major Auros features.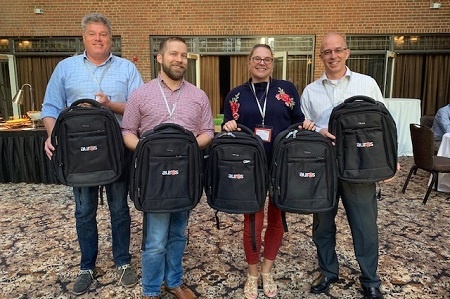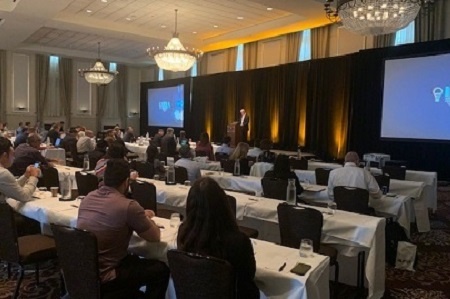 Following the opening presentation, breakout sessions were available for both novice and advanced users, which were new conference this year. Novice users learned about Auros fundamentals, participated in an interactive exercise on the differences between Knowledge Aware and the traditional document-based approach of knowledge management, and learned what to expect with managing change in a bottom-up implementation. On the other hand, advanced users learned how to apply the Knowledge Aware technique with CAD applications, and about a few advanced features of Auros, such as Method Knowledge Packets and Team Boards. After the breakout sessions, a Welcome Reception was held, where guests enjoyed food, drinks, and prizes.
On day two of the conference, attendees gathered for a networking breakfast before the opening remarks. The first presentation of the day was keynote speaker Sanjay Dhall. Sanjay, the founder of Detroit Flying Cars, gave insight on failure and how it affects the road to success in his presentation, "Failure: Show Stopper or Stepping Stone."
Several guest speakers followed the keynote presentation, who discussed how Knowledge Aware and Auros have improved their specific processes. Guest speakers included PLM Elder and Advisor PLM Leader Craig Brown, who is retired from General Motors, Global Program Manager Matt Baron of BorgWarner, Senior Engineer Megan Pregler of Navistar, and Process Manager Chris Pizzo of General Motors.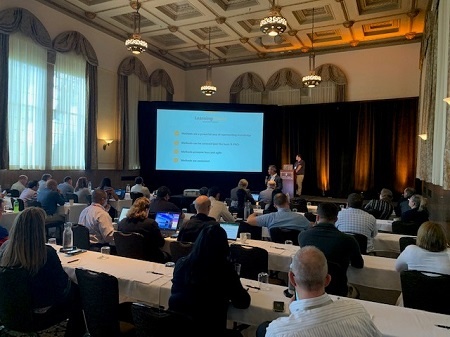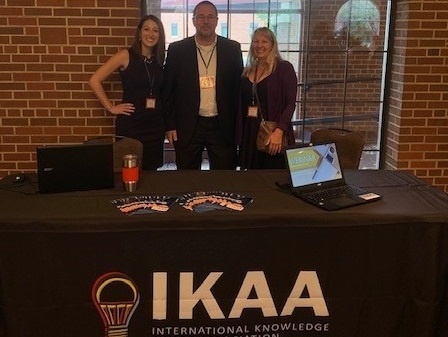 Overall, the energy was high in the room, as attendees asked questions after each presentation, furthering the discussion of what Auros has to offer. Many guests were interested in seeing how other organizations are utilizing Knowledge Aware and Auros to their best advantage and demonstrated that interest with every Q&A session.
After a lunch break, the annual Cool K-PAC Competition was held. Nic Cassady of Navistar, Jimmy Wroblewski of Auros, and Darryl Yarbrough of General Motors were the finalists for the competition. After presenting their K-PACs, the attendees voted for their favorite K-PAC using the conference app. Nic Cassady won this year's competition with his presentation of Navistar's fastener coating selection K-PAC.
The next presentation, "A Knowledge Aware Narrative: Walking the Walk," was delivered by Josh Kullis of Auros. Josh discussed Seed Project processes, consulting techniques, and how the Auros software factory has improved along with the software itself.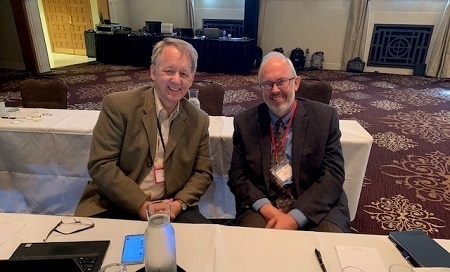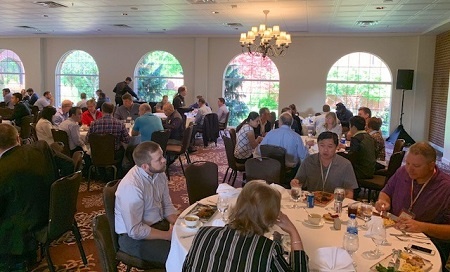 Tim Glaue of Caterpillar had attendees in laughter with the next presentation, "Going for Green, Embracing the Red." All jokes aside, he discussed the Knowledge Aware Delta Model, and why green and red in Auros don't necessary equate to "good" and "bad," but rather to "expected" versus "unexpected."
Finally, Jeff Moffa closed out the conference with a brief presentation on new features in Auros and changes that customers can expect to see in the software in the future, including the Auros Playbook, a new series of video podcasts which are designed to educate and provide extra support to users in becoming more Knowledge Aware.
Recordings of each presentation will be available to view in the coming weeks at https://kaconference.org/2019-knowledge-aware-conference-presentations/. To learn more about the conference and keep an eye out for next year's conference information, visit kaconference.org.