The Knowledge Aware approach is fundamentally different from other Knowledge Management approaches. While legacy Knowledge Management approaches rely heavily on document centric libraries and databases, the Knowledge Aware approach manages knowledge directly. The Knowledge Aware approach establishes an integrated knowledge process where knowledge actively participates and is provisioned within the flow of work.
With this approach, knowledge is continuously being captured, shared, reused, updated, and validated across teams, languages, and time. Unlike traditional knowledge management strategies, the Knowledge Aware approach not only captures knowledge from best practices, lessons learned, requirements, standards, and techniques, but also delivers knowledge to employees and departments as they work. Because knowledge is delivered when and where it's needed, employees won't have to waste time manually searching for and sharing knowledge. As a result, decision-making and analysis are positively influenced, and organizational efficiency and product quality is improved, saving the organization valuable time and resources.
Adopting the Knowledge Aware approach is like switching from paper maps to GPS navigation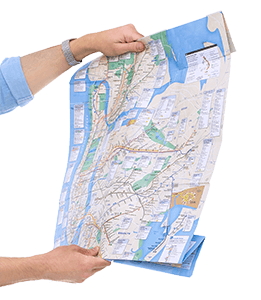 Today, using traditional Knowledge Management solutions (i.e. checklists, SharePoint, etc.) is like using a paper map for guidance when traveling. Paper maps are difficult to use – they become quickly out of date and can be nearly impossible to use while driving. This is a common situation when using a document library – resources are out of date, knowledge is difficult to locate, and is time consuming to manage.
The Knowledge Aware approach is like upgrading to a GPS system; it can take an organization to a new level. A GPS system gives instructions turn by turn when you need it, synthesizing the latest data from other drivers to give you the best route, and it provides context sensing. Similarly, the Knowledge Aware approach provides only precise knowledge, when and where it's needed.
Now that you've experienced the power of GPS navigation, you most likely haven't returned to the paper map for driving instructions. The same goes for organizations that have adopted the Knowledge Aware approach. After you experience the power of active knowledge, it's hard to imagine how work used to get done before using it.
Enterprise-level view of Knowledge Aware
The Knowledge Aware approach is a powerful enterprise-level capability. This approach unifies departments, locations, and teams into one knowledge management system, where knowledge across the organization can be reused and create a learning organization.
The Knowledge Aware approach is growing
The Knowledge Aware approach is getting attention from organizations across multiple technical industries and adoption has grown to over 35,000 global daily users through Auros alone. Many of these organizations are realizing many new benefits from the Knowledge Aware approach, such as the elimination of recurring mistakes, preservation and sharing of knowledge, improvements in engineering efficiency, a reduction in undesirable engineering variation, and a reduction in enterprise IT footprint.
For a deeper understanding of the Knowledge Aware approach, sign up for a complimentary 60-minute Knowledge Aware Briefing with one of the lead Knowledge Aware Consultants. From the briefing, you and your team will better understand what the approach is, how it works, who uses it, the benefits, and how your organization can adopt this approach. Click here to register for a briefing.